The Admin Committee
Heedeth my dialogue.
Dominion Master
2/15/2008 2:55:31 PM



Level: 1
Experience: 0
Total Posts: 31
Firearm-Related Misconceptions and Mistakes

---
Table of contents













Clips Vs. Magazines

Clips load magazines--cartridges clip onto the clip, and then they are pushed from the clip into a magazine. Clips are entirely unimportant to the Daireem RPG, as it seems everybody has infinite pre-loaded magazines.



Magazines contain cartridges and are either inserted directly into the firearm (in the case of a detachable "box magazine") or an integral part of the gun (in the case of many bolt action rifles or even early semi-automatic weapons such as the M1 Garand, which required "en bloc" clips to be loaded into the fixed internal magazine) and the cartridges are stripped out of the magazine by the bolt, pushed into the chamber, and a firearm is ready to fire.


Cartridges Vs. Bullets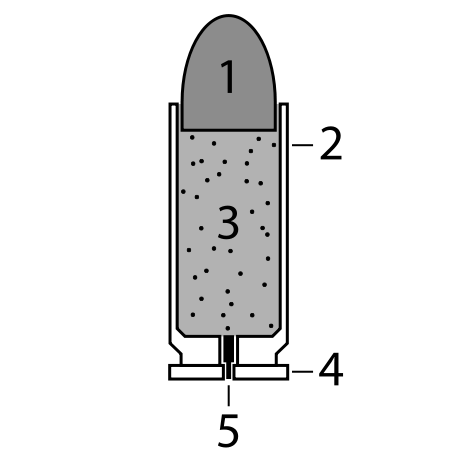 What is seen in the picture is often mistakenly referred to as a "bullet", but is in fact a "cartridge". Cartridges are the self-contained units that are inserted into the gun's chamber before firing, and includes the whole package of case (marked "2" in the diagram), propellant (3), primer (5), and bullet (1). When the primer (5) is struck by the gun's firing pin, it ignites the powder (3), propelling the bullet (1) down the barrel. The weapon's action is then operated, ejecting the now-empty case (2) and loading a new cartridge into the chamber. This is either under the operator's own power (bolt-action firearms) or under the power of the ammunition's expanding gasses or the weapon's own recoil (automatic or "self-loading" firearms). There are other methods of cycling that are not as common such as those used by miniguns or chain guns (which are not the same thing, see below). Those such weapons' cycling actions are typically driven by an electric motor.


"Armor-Piercing Rounds"

First, it should be established that "armor-piercing", in the context of firearms, refers to soft body armor like kevlar, not hard steel plating as would be used to fortify a structure or armored vehicle.

There are practically no armor-piercing pistol rounds. You can't get special "armor-piercing" ammo for a pistol. While there are a few types of pistols that use a round that is inherently armor-piercing (for example, the FN Five-seveN with its 5.7x28mm round, which is designed essentially like a downsized rifle round, as well as some old pistols using 7.62x25mm ammunition) you can't, for example, swap out "regular" 9mm for "armor-piercing" 9mm when going up against body armor. Although some types of rounds can be more effective against body armor (a hardened core and a "hotter" load, achieving higher velocity, helps this), for all intents and purposes, you just have to switch to a different caliber that is actually capable of piercing armor.

Practically all modern rifle rounds are inherently armor-piercing due to bullet design and having a much greater muzzle velocity than that of a pistol round. For this reason, most soft body armor has an inside pocket for the purpose of fitting a hard plate, usually ceramic, designed to stop rifle bullets. However, these are even more uncomfortable than the vest alone and weigh anywhere from four to nine pounds each. If you want front and back protection, that's a combined additional eight to eighteen pounds, not to mention they won't protect your sides.

Even doubling up two level III soft vests will not stop most rifle rounds.

It should also be noted that it is a complete fallacy that coating bullets in a substance like Teflon will increase their effectiveness against armor.


Rotary Autocannons Vs. Miniguns Vs. Chainguns

A rotary autocannon is a weapon in which a rotary assembly of multiple barrels, bolts, and firing pins are driven at great speed by an electric motor and fire large ammunition, usually 20mm or 30mm, thus "autocannon" as opposed to "machine gun". One barrel will fire while the others have their empty cases extracted and new rounds loaded to fire again. This method was devised in the 1800s by Dr. Richard J. Gatling as a way to achieve high rates of fire without overheating the barrels; therefore, the first weapon to use this firing method was the Gatling Gun. (The Gatling Gun is a particular model of crank-operated multi-barreled firearm that is now very outdated. Autocannons should not be referred to as Gatling Guns.)

"Minigun" refers to the M134 series of rotary guns, originally created by General Electric, but improved and now manufactured by Dillon Aero. It is a scaled-down rotary autocannon (thus "mini" gun) firing rifle ammunition; specifically 7.62x51mm. Though "minigun" was coined in regard to the M134, it could technically refer to any other downscaled rotary autocannon.

A chain gun is a single-barreled weapon whose action is driven by a chain and motor. This makes it typically more reliable than a recoil or gas-operated firearm because a misfired round is simply ejected.


Addendum on Rotary Autocannons

Most video games containing rotary autocannons are filthy liars. A rotary autocannon does not have to "spin up" or "spool up" before firing. The firing, feeding, and extraction mechanisms are based on the spinning of the barrels, and thus "spinning up", in the sense that it is used in video games, would simply cause the gun to fire.

However, to "spin up" a rotary autocannon is not entirely fictional. It does take a certain amount of time (a fraction of a second) to achieve optimal fire rate—however, it does (and in fact must) fire during this time.


Projectile Power and the Difference Between Cover and Concealment

Despite what Hollywood would have you believe, car doors, concrete blocks (concrete being a very brittle material and apt to explode upon impact), and the wooden or sheetrock walls or floors of houses aren't enough to stop most "assault rifle" or even pistol rounds. They may alter the course of and/or slow down the round, but one layer of these materials will almost certainly not stop a standard full-metal-jacketed bullet. These objects should never be relied upon for cover, but may act as concealment. Your best bet for cover from a vehicle would be behind the engine block. The rest of a vehicle is pretty much just thin sheets of metal or plastic and glass.

Half an inch of steel may provide decent cover at least for a few shots of an intermediate round, such as 5.56x45mm (AR15/M16) or 7.62x39mm (AK47). A refrigerator, however, would not stop a decent pistol caliber much less an AK47.


Sound Suppressors and Sound Levels

Contrary to popular belief, most sound suppressors (more commonly known as "silencers") do NOT make firearms nearly inaudible. A good suppressor used with subsonic ammunition (or a good suppressor that reduces the speed of a supersonic bullet to subsonic levels) can reduce the shot's volume to a level quieter than the action of the gun, but this is still very loud. On average, a small caliber (5.56x45mm, 7.62x39mm) rifle's action is about as loud as a pneumatic nail gun, though a pistol's action is generally a bit quieter. A bolt action .22 LR with a good suppressor is about the only gun as quiet as in the movies, but it still sounds more like a crack, not a weird plink. See diagram.


Guns and the Exploding Thereof

Dropping, kicking, or running over any quality firearm will not damage it beyond operational capacity. Any quality firearm can be run over with a car or even dropped from a low-flying airplane and still be perfectly operational. The only thing likely to cause a firearm to explode in the operator's hand is a case head separation (in which the rim of the cartridge is somehow weakened and causes the exploding powder and gases to feed back into the gun instead of down the barrel, something that would only be the result of a manufacturing defect) or a bullet becoming lodged in the barrel and the operator attempting to fire again (though in some cases this will still not cause a catastrophic failure, though it will damage the barrel and cause extreme accuracy loss.)


What is a Claymore?

It is a common misconception that the M18A1 Claymore Antipersonnel Mine is a high explosive device. It is in fact a directional antipersonnel shrapnel device, firing seven hundred 1/8-inch steel balls in a sixty degree arc in front of the mine when it is detonated. This is why the infamous text "FRONT TOWARD ENEMY" is embossed on the front of the mine.

Similarly, most antipersonnel hand grenades are fragmentation devices, with concussion grenades (also known as HE or high explosive grenades) being much less common.


Can't I just carry my Barrett .50 caliber rifle in my pants?

Unless you are a giant character, you cannot conceal a carbine in your pants much less a 30-pound, 5-foot Barrett rifle. See diagram.