Seraph
Techno-Mage
5/21/2008 10:47:29 PM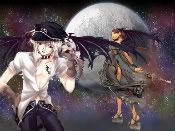 Level: 1
Experience: 0
Total Posts: 40
Seraph & Frae Valien

---
Character Name: Seraph Valien

Age: 30

Gender: Male

Species: Halfling (Demon/Kiefan)

Description: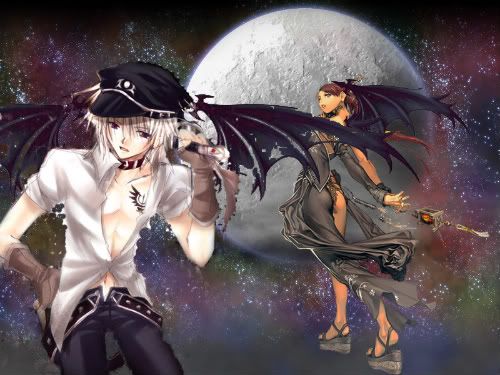 A proud postured, fair skinned man, he stands a mere 5'7" tall with a total combined weight on his lean muscular frame of 121lbs. On his chest openly displayed underneath his partially opened dress shirt is the insignia of one of the magi council on Micc. Given only to those whom have the potential of becoming a dangerous threat to society, Though his mild-mannered attitude gives most no reason to worry. Through the back of his dress shirt expel large bat-like wings, slightly larger than that which is most commonly seen in Demon kind but not overly excessive.
Covered mostly by his favorite hat, medium long spikes of white golden hair shoot out from under the oppressive shade. His relaxed brown leather piloting gloves cover from finger tip and mushrooming out to spread beyond the wrist. This overcasting one of Seraph's favorite inventions, something he calls telekinetic fusion body armor. Two bands wrapped tightly around his wrist serve as the origins of it start. Activated only by the telepathic sensation of danger, the bands generated a telekinetic forcefield of armor slated directly over the skin. On his hip rested a technical/mechanical utility belt which also held his TW brand (Techwiz Works) G10 Saber through the supporting loop on one side, and a TW S90 Dagger on the other. With a smaller bone structure and a lesser bone density than normal Seraph is able to glide quite well given a good enough wind not to mention his agility and speed aren't anything to laugh at either. Even through all of this his body is still more frail than those whose bodies are "normal" , and broken bones aren't terrible uncommon for him. Whatever he lack in physical prowess he makes up for in magic and telekinetic aptitude. His grasp on magic far surpassed most of his class, very few could match him in this realm. That along with a couple of incidents early in life got him his branded chest.

History: 37 years ago on Menos, two young lovers were stricken from their homes, both from opposite families, neither of which liked the other. A stark rambunctious demon male who went by the name of Faerib Valien, and a Kiefan of wholesome beauty, Laures Sapin. In the heat of the moment these two star struck lovers stole a cargo vessel during the night thinking that it would be the most inconspicuous and fled from the far reaches of the Blizzard system.
It just so happened that this ship had no hyper drive, so the journey to find a new how was quite a long one. It was during the voyage through the Charlu system is when the two found that they were with child, and noted a small easily habitable planet in Micc. Once landing they were greeted well by those local and help was give to them on building a home. When the time was come a small boy child was born to them, his fair skin and almost white hair, contrasting with the darkened wings was what gave then his name Seraph Valien.
Seraph as a young boy grew quickly even though his frame seemed more fragile than most, and being surrounded by so much magic had quite an influence on his being as a whole. In his early youth he went out playing in the fields with a friend of his when they were attacked by a large cat-like wild animal, neither of them being adept in fighting or strong enough to defend themselves they were going to be easy quarry. First his friend went down, being the closest and least agile of the bunch and the animal took no time to eradicate his flailing screaming little frame. The site of this set off a chain reaction inside of the young Seraph.
An instance to him later, though it had been quite some time through his blackout, Seraph opened his eyes once again. Looking around frantically he stood up to find his friend. Still lying on the ground was his now seemingly healthy friend, asleep, but perfectly fine. Next to him a couple feet away was the body of the animal. His skin ravaged and tangled, dead. It was inferred by the Magi council later on that the black out experience was concurrent to a strange anomaly of magic surging that origined from the boy Seraph, it was then at such a young age that he was branded, the symbol of magi, used to help control his power and mark him also as a danger to society.
Nothing of significance happened i his life other than couple of squabbles and his constant tutoring in magic from his mother and some random people here and there that would show him a ting or two. Not until the birth of his sister that is. He had always wanted a sibling and she seemed perfect to him. so small but strong, her form taking more so after the father's genetic than their mother's. It was also around this time when he decided his next achievement, he would build a ship and go back to the world of his parents, seeing what they did, and finding all the beauty that they spoke of there.
When he told his parents this they seemed a bit distraught at first but then over time they encouraged it telling him he should strive for it. a few years passed with no ship, but in his room late at night he had been constructing many magical things, the biggest of which would be a hyper drive engine to power his new ship. His parents seeing his unrelenting fight for this dream then took him and gave to him what was left of the ship that they had once flown to get there. older and a bit tattered it was all this young man needed to get everything going.
Tragedy struck him once again with the passing of his parents, a virus which they called Alpha-Omega had seemingly swept through the countryside killing thousands is it wake, not until later did they fin it was an airborne disease that took 20 years to mature and start it reign of terror. This virus though hosted by any who had come into the atmosphere around the time of his parents, had only 2 adverse effects on those born from the infected, Sterility, and loss of Bone density.
At the age of 23 he had to put a halt to his project to start raising his sister and making a living for them, doing work at night with the little time he had. Then he got an Idea, why not teach is sister in the ways of mechanics and battle that way he could progress with his plans faster, and soon he had student and partner. I took them 7 years to finish and fix everything with the ship but it was a worth it time. They together became as close as any siblings could (without being sick). From here it is unknown as they slowly make there was from system to system, and planet to planet, finding maps, ad most anything else of help to get to their parents homeland.

Item(s): Telekinetic Fusion Body Armor
TW Tech/Mech Utility Belt
TW G10 Saber (Single blade)
TW S90 Dagger
TFB Armor: Fully Environmental prototype. Absorbs and uses any magical attack energy to continue upkeep. Lessens the damage from lasers by only 25% as well as melee weapons damage by 50%. has a 15% chance of deflecting projectile weapons. This field can hold air reserves for up to 1 hour, and unless recharged has a lifespan of six hours before it retracts.

Belt: Useful in most any technical or mechanical situation with available weapons loops/holsters on the sides.

TW G10: A single bladed weapon comparable to that of the Corman-Falee Beam Saber. Only it uses a list of magical spells to enchant and extend into different blades.

TW S90: A smaller version of the G10 used mainly as a cutting tool but works great as a parrying dagger.

Ship/Vehicle: Model: Exodus (originally a JN316-Beast)
Manufacturer: Seraph and Frae Valien (Perennor Galactic originally)
Type: Transport
Field: Space, atmosphere
Hyperdrive: Reverse diamond Flare Conversion Drive (refitted into the space that took up what used to be the recreational room.
Life Support: Yes
Artificial Gravity: Yes
Weight Class: Light
Cargo Space (Long, Wide, Tall): 20x18x12 feet


Character Name: Frae Valien

Age: 17

Gender: Female

Species: Halfling (Demon/Kiefan)

Description: Twisted and tied strands of fire cascade down her back as her frosted regal gaze of blue flames flash brilliantly towards their next destination. Her dress, though seemingly normal, is as close to her upper torso as her own skin, while the skirting drapes heavily down her legs. A slightly radiant energy emits from it during the nights sky. Sprouting gingerly from her tanned skin, right above the dipping back of her strapless hazel dress, were quaint bat-like wings which only seemed to accent her fragile looking frame. Only 5'4" tall she walks majestically on two inch healed sandal-like shoes. This bringing her already petite 100 lbs. frame a lengthier more slender appeal.
Despite her appearances this girls is quite knowledgeable and technology. Frae also is not afraid to break a nail, in reality her fingers are dagger-like claw though simple magic takes care of that, and she is quite a "grease monkey" when it comes to ships. Unlike her brother she is not exceptional in the ways of magic, though her youth gave light to many small yet convenient spells.
She is a true to the word technological wizard, blending magic and technology to create better, more efficient weapons, tools, items, ect. The only downfall to these items for the general public is you have to wield some sort of magical or telekinetic ability to use them.

History: The 17 year old sister to Seraph, this young girl is about as rambunctious and out there as any, but with a small sense of refined teachings. Though she was never terribly gifted in the arts, her mother was her teacher exclusively until the age of ten when her mother died. During that time the miisfit of a child was slowly being refined into what could be called a diplomatic woman. This time included many mischievious acts of prank magic upon her friends and family, which she still enjoys today. With her mothers teachings imbedded into her, through the next 7 years, she learned mostly from her mild mannered brother, being the exciting counterpart to his easy going ways. He taught her the ways a battle and technology of the world from his limited perspective and gave her as much information as he could dish out, letting her sift through and grab on to what she wanted to know.
She loves her brother like only a sister could and is generaly attached to his hip at almost all times. She's also become a bit of a grease monkey over the years do to her involvement with the building of the shuttle. She in turn now has a great knowledge of mechanics and how to make things work. Not much has come about in her life that she would call significant minus her parents death, so she clings to the hope that their travels to other worlds will bring a touch of excitement into her life.

Item(s): TW Regal Issue Battle Dress
One large amulet charm
TW G20 Double-Saber
TW - Breath of Life - Rune Necklace

Dress: Designed for elegant fashion on a battle ready
woman. This armored dress is coated on the outside
with powder fine crystals pulled straight from the
mines of Dorsot on Micc, one of the then infused
into the fibers through the patented TW process.
Resistant against laser and magical attacks as well
as enhances the magical and telekinetic range and
strength of the wearer. Not to mention the gel soft
and cottony padding inside to prevent chaffing and
improve the overall comfort.
Charm: A keepsake from her mother, before she died her
mother gave this to her and told her it would keep
her safe. (The charm glows constantly with a queer
aura of green)
TW G20: A double bladed version of the G10
TW Rune Necklace: A cache of magic that when held in
the mouth converts any atmospheric gas into
breathable air.

(For the sabers and dagger, they would cost around the same as their counterparts from other worlds. The necklace and armor of the sister is up to you what you would charge if anything.)




Stasis


Hey Claudius...
You killed my father.
Big mistake.
Dominion Master
5/22/2008 11:26:31 PM



Level: 25
Experience: 65000
Total Posts: 689
RE: Seraph & Frae Valien

---
Nitting and picking:

Up until about a year ago, Meeriad was engulfed in a worldship. Nobody could leave or enter, so Seraph's parents couldn't have come from Meeriad.

It would take years and years to travel to another star system without a hyperdrive. Star systems are about four lightyears apart at the closest, and, of course, one cannot travel at or over the speed of light without a hyperdrive.


Items:

Telekinetic Fusion Body Armor -

100 for materials and other creation costs
TW Tech/Mech Utility Belt - Free
TW G10 Saber (Single blade) -

500
TW S90 Dagger -

350

TW Regal Issue Battle Dress -

250
One large amulet charm - Free
TW G20 Double-Saber -

575
TW - Breath of Life - Rune Necklace -

300


Now we've got the problem of inventory and bank. They're designed to only accomodate one character, however, if you intend for the characters to always pool their money, I can section off the inventory for each character and just have one bank.

How do you want to do it?